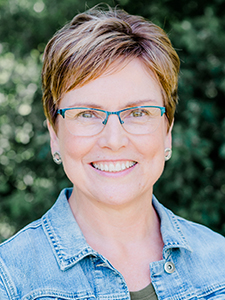 Thank you for visiting our Moms in Prayer Iowa page. It is my prayer that you will join the wonderful sisterhood of Moms in Prayer women across our state! I would love to meet you and help you get a group started. You and your children and their schools will be blessed!
Can you imagine what would happen in Iowa if EVERY single school from pre-school to grad school was covered in prayer each week during the school year? What would God do in response to all of those faithful prayers? How many children, students, teachers and staff would be impacted by Christ and be saved? That is my heart's desire and I want you to join me in making this God-sized goal a reality! It is SO exciting to be used by God to help grow His kingdom.
I would love to hear from you. If you're not in a Moms in Prayer group yet, you need to get connected! Experience another mom praying for your child and the joy of seeing God at work in your child's school.
You can reach me at: IA@MomsInPrayer.org
My Moms in Prayer Story
I clearly remember when I heard about Moms in Prayer International on a Focus on the Family radio broadcast featuring our Founder, Fern Nichols. My heart was stirred and now I have been praying in a Moms in Prayer group for 30 years! I plan to continue to pray in a group as long as the Lord gives me the physical and mental ability.
My oldest son battled severe asthma which resulted in a number of emergency room visits and hospitalizations throughout his childhood on up to college. I would battle anxiety and fear whenever he developed a runny nose or cough and a feeling of dread would come over me. Many weeks he would be the one of my four children that we would cover in prayer in my Moms in Prayer hour. This brought me great peace, hope and strength. God answered so many prayers on his behalf and today my adult son is healthy and his asthma is well controlled.
I love this ministry for SO many reasons. One of the many reasons is that this ministry is based on and completely immersed in God's Word. I encourage you as a mom with this verse from Proverbs 16:3, Commit to the LORD whatever you do and your plans will succeed.
What's your Moms in Prayer story? If you don't have one yet, make sure to connect with a Moms in Prayer group now.
You can reach me at: IA@MomsInPrayer.org