South Carolina State Coordinator, Vanessa Frazier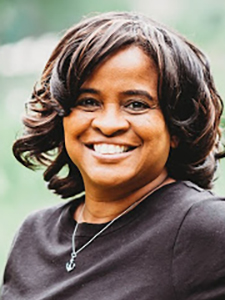 Hello South Carolina Mom! I'm glad your steps were ordered toward Moms in Prayer International!
• Are you ready to humble yourself before the Lord?
• Are you ready to be trained up in the way of prayer?
• Are you ready to grow in your prayer life?
• Do you want fellowship with women right in your community?
Then we have something to talk about! I can't wait to meet you and hear about your journey with Jesus. I want to know how I can pray for you and how you want to impact your school and community through the power of prayer.
During this epic time and this most interesting season with the Lord, I endeavor to keep my eyes on Jesus and to move away from distractions to embrace the will, purpose and plan of God for my life. I'm thankful that God continues to set aflame my desire to bring women, such as yourself, under my wing to give you more of Jesus. I'm humbled to serve you and I look forward to your success in Christ Jesus as we both mature in our walk with the Holy Spirit.
I would love to hear from you. If you're not in a Moms in Prayer group yet, you need to get connected! Experience another mom praying for your child and the joy of seeing God at work in your child's school.
You can reach me at:  SCarolina@MomsInPrayer.org
---
My Moms in Prayer Story
Looking back, I should've gravitated toward the ministry when it was first introduced to me. It was probably the fiasco that comes with a military move back to the United States, my husband's upcoming retirement, new job worries, a new home that we built from the ground up, and the fear of PUBLIC SCHOOLS! Yep. I had a list of to-do's that didn't make room for prayer. The truth is that all these situations were the very things God wanted me to pray about!
I'm still fulfilling my call to public schools and I love every minute of it! Each day I walk and talk with God now that He has trained me through public and private schools in three different countries. With that said, I approach Moms in Prayer International with more of a biblical and practical sense to come to God's throne of grace with confidence to pray for children and schools. I see the good and the bad. I thank Him for what's right and pray for what's wrong: low test scores, social and emotional dramas, bullying, and now E-learning (Yikes)! Prayer is the power to protect this next generation and the wonderful teachers who give their all to see their students succeed.
I LOVE the fact that my two grown children continue to give me "crazy" prayer points that I can now give to young moms! "How did my son end up following a Mother God and using tarot cards?" "Who told my sweet, precious, 'mini me' daughter that she should go into the army?" Lord, teach us how to pray!
As the South Carolina State Coordinator for Moms in Prayer International, it is an honor to be a Titus 2 woman: an older woman teaching young women good things! To my sisters over 50, we have a divine calling to get these young moms where they need to be in Christ Jesus. May our experience of being steadfast, immovable and abiding in the work of the Lord, be a blessing to this generation and the generations to come! We should go up and take possession of the land, for we can certainly do it. Numbers 13:30b (NIV)
What's your Moms in Prayer story? If you don't have one yet, make sure to connect with a Moms in Prayer group now.
You can reach me at:  SCarolina@MomsInPrayer.org