"Just get the Word of God in kids' hearts and it changes things." Yes it does! God's Word gets right to the heart of the matter. Today Stacy speaks with Executive Director of Bible2School, Kori Pennypacker. Listen in as Kori talks about the open doors to share Jesus with elementary students in public schools; it's one story after another of answered prayer.
SCRIPTURE: NKJV
"Finally, my brethren, be strong in the Lord and in the power of His might. Put on the whole armor of God, that you may be able to stand against the wiles of the devil. For we do not wrestle against flesh and blood, but against principalities, against powers, against the rulers of the darkness of this age, against spiritual hosts of wickedness in the heavenly places. Therefore take up the whole armor of God, that you may be able to withstand in the evil day, and having done all, to stand." Ephesians 6:10-13
"For the word of God is living and powerful, and sharper than any two-edged sword, piercing even to the division of soul and spirit, and of joints and marrow, and is a discerner of the thoughts and intents of the heart." Hebrews 4:12
Links:
Bible 2 School
You Can Tell the Children Podcast
Moms in Prayer:
About our Guest: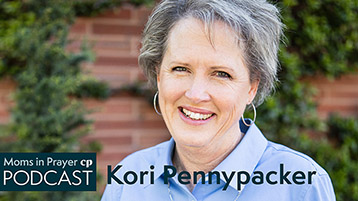 Kori Pennypacker serves as Executive Director of Bible2School, a non-profit organization in Lancaster County, PA that offers Bible Electives to public school children during their school day. Kori has a Bachelor's Degree from Shippensburg University and over 15 years of Children's ministry and leadership experience, including 10 years as Early Childhood Director at LCBC, a growing megachurch. She leads a team of over 150 volunteers and staff with the goal to have a Bible elective available in every school in her county and to influence other counties in the nation to do the same. Kori lives in Lititz with her husband Blaine and their three high school and college-age sons: Justin, Matt, and Ben. She enjoys spending time with her family, playing tennis, and volunteering with her husband to mentor engaged couples in her church.
FOLLOW THE MOMS IN PRAYER PODCAST