"There's a new opportunity tomorrow to learn from what we did today. It's not about the punishment or the condemning, but making sure we see the problem in light of His power." Today Aubrie welcomes Jonathan Evans to the podcast. Not only is he a speaker and an author, but Jonathan is also a former NFL fullback that serves as a chaplain to the Dallas Cowboys and Dallas Mavericks. Listen in as he teaches us how we can incorporate the principles of God's Word into the daily tasks of raising children. Don't miss the simple and practical tools Jonathan gives us to keep ourselves and our children on God's best path.
The Moms in Prayer Podcast is a part of the Christian Parenting Podcast Network. To find practical and spiritual advice to help you grow into the parent you want to be visit ChristianParenting.org
Scriptures
Blessed is every one who fears the LORD, Who walks in His ways. When you eat the labor of your hands, You shall be happy, and it shall be well with you. Your wife shall be like a fruitful vine In the very heart of your house, Your children like olive plants All around your table. Behold, thus shall the man be blessed Who fears the LORD. Psalm 128:1-4 NKJV
So shall My word be that goes forth from My mouth; It shall not return to Me void, But it shall accomplish what I please, And it shall prosper in the thing for which I sent it. Isaiah 55:11 NKJV
And God blessed them. And God said to them, "Be fruitful and multiply and fill the earth and subdue it, and have dominion over the fish of the sea and over the birds of the heavens and over every living thing that moves on the earth." Genesis 1:28 ESV
Train up a child in the way he should go; even when he is old he will not depart from it. Proverbs 22:6 ESV
But seek first the kingdom of God and his righteousness, and all these things will be added to you. Matthew 6:33 ESV
Therefore, my dear brothers and sisters, stand firm. Let nothing move you. Always give yourselves fully to the work of the Lord, because you know that your labor in the Lord is not in vain. 1 Corinthians 15:58 NIV
Links
Stories From the Storyteller App
Jonathan Evans on Instagram
Jonathan Evans on Facebook
Books
Stories from the Storyteller
Fighting Your Battles: Every Christian's Playbook for Victory
Your Time Is Now: Get What God has Given You
About our Guest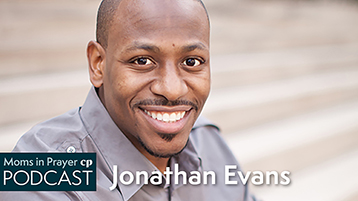 A graduate of Dallas Theological Seminary with a master's degree in Christian Leadership, Jonathan Evans is a mentor, author, speaker and former NFL fullback who serves as the chaplain of the Dallas Cowboys and co-chaplain of the Dallas Mavericks. As part of his commitment to developing the next generation of devoted Christian leaders, he travels the country speaking at churches, conferences, men's events, banquets, and student-athlete events.
Jonathan also serves with his pastor, friend and father, Dr. Tony Evans, both in the local church and the national ministry. Together, the two of them have written Get in the Game, and in 2021, he released his first stand-alone book, The Time Is Now. Jonathan's newest book is Fighting Your Battles: Every Christian's Playbook for Victory over Life's Challenges. He and his wife, Kanika, are the proud parents of five children. The family resides in Dallas, Texas.
FOLLOW THE MOMS IN PRAYER PODCAST