"In a lot of ways, the life I have lived has been a result of people praying for me." English Teacher and Department Chair, Kendal Conner, shares the testimony of her life as a prayed-for child. Now, Kendal is a teacher impacting students for Christ. Listen in as she tells us what God has done and how we can pray more deeply for students, teachers and schools.
The Moms in Prayer Podcast is a part of the Christian Parenting Podcast Network. To find practical and spiritual advice to help you grow into the parent you want to be visit ChristianParenting.org
Scriptures
My sheep listen to my voice; I know them, and they follow me. I give them eternal life, and they shall never perish; no one will snatch them out of my hand. My Father, who has given them to me, is greater than all; no one can snatch them out of my Father's hand. John 10:27-29 NIV
Now to him who is able to do immeasurably more than all we ask or imagine, according to his power that is at work within us, to him be glory in the church and in Christ Jesus throughout all generations, for ever and ever! Amen. Ephesians 3:20-21 NIV
Moms in Prayer
New to Moms in Prayer? How to get started
Bless Our Schools Sunday
SHARE this blog with a friend – click on a social media icon on screen
Support Our Mission
About our Guest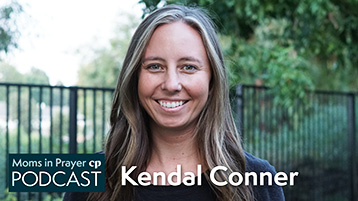 Kendal Conner is an educator at Linfield Christian High School. She is about to begin her eighth year at Linfield as a 9th grade English teacher and her third year as Department Chair. Although she is passionate about literature, what she loves most about her job is the privilege of witnessing students consider, begin, and strengthen their relationship with the Lord. She and her husband, Cory, have been married for seven years. They live in Temecula, California and spend most of their time hosting friends and family, off-roading, and working on house projects.
FOLLOW THE MOMS IN PRAYER PODCAST