The global pandemic has not stopped the movement of God in Europe and Israel. Today Lee sits down with Moms in Prayer Europe Director, Kathrin Larsen, to discuss the challenges families and schools face in 2020 and the open door that has been brought about through suffering. Listen in as they discuss the prayer strategies God has used to work a softening in the hearts of children throughout Europe.
Show Notes:
Learn more about Moms in Prayer Europe
SHARE this blog with a friend – click on a social media icon on screen
About our Guest:
After 20 years of praying with Moms in Prayer, Europe Director Kathrin Larsen has seen God move and is a witness that God answers prayer, performs miracles in the lives of children, and for children and schools throughout Europe. Kathrin and her family make their home in Switzerland.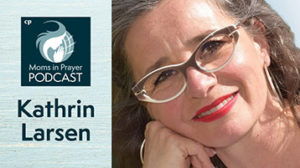 SUBSCRIBE to the Moms in Prayer Podcast!