"If I can understand that my first priority is connection to the Vine, to be the branch, then everything else will begin to grow." Best-selling author and senior pastor at Southeast Christian Church, Kyle Idleman, talks about his newest book, When Your Way Isn't Working. He shares from his personal experience of when his way wasn't working and how connecting to Jesus brought the lasting fruit he was seeking. Listen in as Kyle reminds us that we are not alone, but we can find deep, meaningful connection with God and with others.
The Moms in Prayer Podcast is a part of the Christian Parenting Podcast Network. To find practical and spiritual advice to help you grow into the parent you want to be visit ChristianParenting.org
Scriptures
I am the vine; you are the branches. If you remain in me and I in you, you will bear much fruit; apart from me you can do nothing. John 15:5 NIV
Good sense makes one slow to anger, and it is his glory to overlook an offense. Proverbs 19:11 ESV
Humble yourselves, therefore, under the mighty hand of God so that at the proper time he may exalt you. 1 Peter 5:6 ESV
Links
Books
When Your Way Isn't Working
Not A Fan
One Day at a Time
Follower: Becoming More than Just a Fan of Jesus
Moms in Prayer
New to Moms in Prayer? How to get started
Subscribe to Our Newsletter
SHARE this blog with a friend – click on a social media icon on screen
Support Our Mission
About our Guest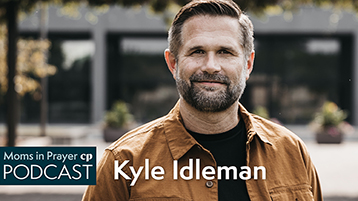 Kyle Idleman is a senior pastor at Southeast Christian Church, one of the largest churches in America, and a bestselling author of several books including One at a Time, Gods at War, and The End of Me. Not A Fan, his award-winning book, sold over 1.3 million copies and sparked a movement among believers. His highly anticipated book When Your Way Isn't Working released in June 2023. Kyle is known for his ability to connect with audiences of all ages and backgrounds and to help people see how God's truth applies to their everyday lives. Kyle and his wife Desirae have four children and live on a farm where he does no farming.
FOLLOW THE MOMS IN PRAYER PODCAST