"Jesus, the Champion of grace, has won the battle for you, and He has huge supplies of grace waiting for you." Hallelujah! Listen in as Stacy talks with author, international speaker, and pastor's wife Cheryl Brodersen about how we can access this abundant grace. Don't miss the encouragement that it's good to come to Jesus empty because what He fills us with is far superior to anything we could have on our own.
Scriptures:
Let us therefore come boldly to the throne of grace, that we may obtain mercy and find grace to help in time of need. Hebrews 4:16 (NKJV)
And Jesus cried out again with a loud voice, and yielded up his spirit. Then, behold, the veil of the temple was torn in two, from top to bottom; and the earth quaked, and rocks were split. Matthew 27:50-51(NKJV)
And the Word became flesh and dwelt among us, and we beheld His glory, the glory as of the only begotten of the Father, full of grace and truth. John 1:14 (NKJV)
Books by Cheryl Brodersen:
A Woman's Battle for Grace 
When a Woman Lets Go of Her Fears
When a Woman Lets Go of the Lies
Links:
SHARE this blog with a friend – click on a social media icon on screen
About our Guest: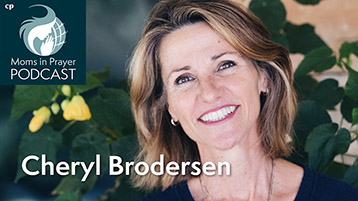 Cheryl is an author and frequent speaker at women's retreats and conferences around the world. She currently oversees the Joyful Life women's Bible study at Calvary Chapel Costa Mesa. She also hosts a weekly podcast called Women Worth Knowing, highlighting women from all walks of life, past and present, and the lives they led for the Lord and serving others.
In 1980, Cheryl married Brian Brodersen and for many years they ministered together at Calvary Chapel Vista, California, then in London, England, and in 2000, at the request of her father, Pastor Chuck Smith, Brian and Cheryl returned to California. Brian has been the pastor of Calvary Chapel Costa Mesas since 2013. Cheryl & Brian have four grown children, six grandchildren and a Golden-doodle named Barnabas.
FOLLOW the Moms in Prayer Podcast!