"I was sending my boys to junior high, into a battlefield for their minds every single day. Who's going to pray?" Fern Nichols, founder of Moms in Prayer International, walks us through the power of praying together including two key purposes of prayer, why we pray, and the crisis we're in and what to do about it. She also tells us the stories of two of her sons and how God answered prayers for their safety, salvation, and important life decisions.
Scriptures
And whatever you ask in My name, that will I do, that the Father may be glorified in the Son. John 14:13 NKJV
Until now you have not asked for anything in my name. Ask and you will receive, and your joy will be complete. John 16:24 NIV
I urge, then, first of all, that petitions, prayers, intercession and thanksgiving be made for all people. 1 Timothy 2:1 NIV
"Call upon Me in the day of trouble; I will deliver you, and you shall glorify Me." Psalm 50:15 NKJV
"I looked for someone among them who would build up the wall and stand before me in the gap on behalf of the land so I would not have to destroy it, but I found no one." Ezekiel 22:30 NIV
When they arrived, they went upstairs to the room where they were staying. Those present were Peter, John, James and Andrew; Philip and Thomas, Bartholomew and Matthew; James son of Alphaeus and Simon the Zealot, and Judas son of James. They all joined together constantly in prayer, along with the women and Mary the mother of Jesus, and with his brothers. Acts 1:13-14 NIV
So Peter was kept in prison, but the church was earnestly praying to God for him. Then Peter came to himself and said, "Now I know without a doubt that the Lord has sent his angel and rescued me from Herod's clutches and from everything the Jewish people were hoping would happen." Acts 12:5,11 NIV
BOOKS BY FERN NICHOLS
Mom's Little Book of Powerful Prayers
Moms in Prayer: Standing in the Gap for Your Children
When Moms Pray Together: True Stories of God's Power to Transform Your Child
Moms in Prayer
New to Moms in Prayer? How to Get Started!
SHARE this blog with a friend – click on a social media icon on screen
Support Our Mission
About our Guest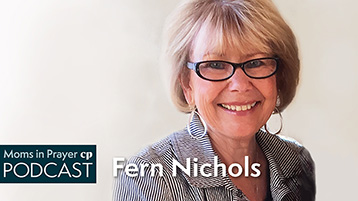 Fern Nichols is a former elementary school teacher and the founder of Moms in Prayer International, a prayer movement that mobilizes women around the world to gather to pray for their children and schools. In 1984, Fern was fearful about sending her two eldest children off to junior high. She knew the school would be a battlefield for their hearts and minds. She realized the warfare would be intense and to fight in this battle she needed to invite other moms to pray. She called a mom and asked her to pray with her for their children and school. Her response was an immediate "yes," and that was the humble beginning of Moms in Prayer that now spans the USA in every state and is in more than 150 countries.
Moms in Prayer is an hour of hope. Moms are discovering that being a part of the Moms in Prayer community is turning their fears to faith. Week after week they are learning to never underestimate the power of their prayers. Fern has traveled to almost every continent in the world speaking, teaching, and training women how to pray effectively. She and her husband Rle have been married 51 years. They were involved with Campus Crusade for Christ (now CRU) for 15 years. They have four children and 10 grandchildren.
FOLLOW THE MOMS IN PRAYER PODCAST
Christian Parenting is offering a course this month called,
Helping Moms Raise Confident Daughters.