"Close knit family bonds don't just happen." Today's guest, Susan Alexander Yates, sits down with Lee to talk about the importance of using our creativity to write our families' spiritual legacy. Family relationships aren't always easy, so Susan and Lee also cover overcoming tension and family strain to create lasting memories. This episode is filled with hope, creativity and fun.
Book:
Cousin Camp by Susan Alexander Yates
Website:
SHARE this blog – choose a social media icon to the right or bottom of screen.
GIVE just $20 monthly! Impact More Children & Schools Worldwide for Christ.
About our Guest: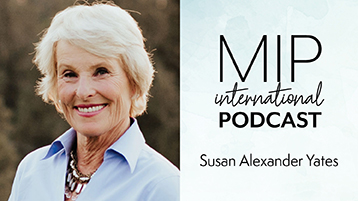 Susan Yates has written 16 books and speaks both nationally and internationally on the subjects of marriage, parenting, and women's issues. Her books include And Then I Had Kids: Encouragement for Mothers of Young Children; And Then I Had Teenagers: Encouragement for Parents of Teens and Preteens and Raising Kids with Character That Lasts (with her husband John). Susan blogs regularly at susanalexanderyates.com and also contributes to Club31Women.com. For 11 years she was the Parent Child Columnist for Today's Christian Woman Magazine. She has also written for other publications including, "Thriving Family," a magazine published by Focus on the Family. She's the mother of five children (including a set of twins) who are all married, and the grandmother of 21 (including a set of quadruplets)! Susan and her husband John have been married 50 years and live in Falls Church, Virginia.