"I have learned to really esteem the role God has given parents and teachers." Today, Stacy talks with author and Bible teacher Barbara Reaoch about passing on the power of God's living word to our children. What a privilege to get to share Jesus with the next generation! And it's never too early to start. Barbara offers helpful and very practical tips on how to do this and invites us into the wonder of the greatest rescue story ever told, the story of Easter.
SCRIPTURES: (NIV)
But what about you?" he asked. "Who do you say I am?" Simon Peter answered, "You are the Messiah, the Son of the living God." Jesus replied, "Blessed are you, Simon son of Jonah, for this was not revealed to you by flesh and blood, but by my Father in heaven. Matthew 16:15-17
"Whoever welcomes one of these little children in my name welcomes me; and whoever welcomes me does not welcome me but the one who sent me." Mark 9:37
And I pray that you, being rooted and established in love, may have power, together with all the Lord's holy people, to grasp how wide and long and high and deep is the love of Christ, and to know this love that surpasses knowledge—that you may be filled to the measure of all the fullness of God. Ephesians 3:17b-19
BOOKS BY BARBARA REAOCH:
A Jesus Easter: Explore God's Amazing Rescue Plan – family devotional
A Jesus Christmas
Why Christmas
Why Easter
Links:
Barbara Reaoch
A Jesus Easter – Free Download
momsinprayer.perfectlyimperfect.org
Moms in Prayer:
SHARE this blog with a friend – click on a social media icon on screen
About our Guest: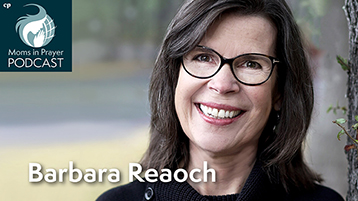 Barbara Reaoch is the author of A Jesus Easter (2022) and co-author of Making Room for Her: Biblical Wisdom for a Healthy Relationship with Your Mother-in-Law or Daughter-in-Law (2022). She served with Bible Study Fellowship as International Director of the Children's Division. You can connect with her at barbarareaoch.com
FOLLOW the Moms in Prayer Podcast!