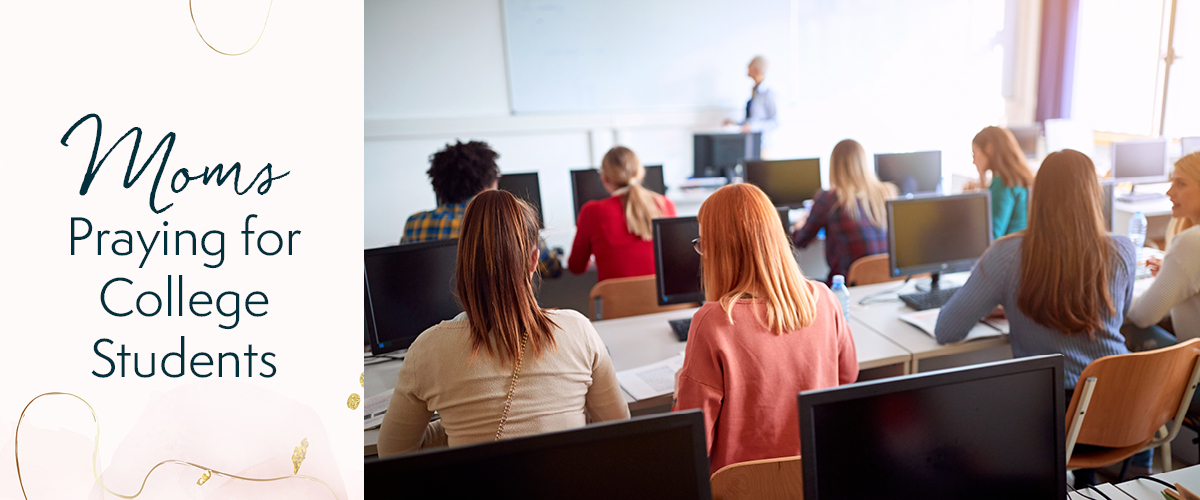 Impact College Students & Campuses for Christ
Our College MIP group welcomed a new member. After only two sessions of praying scripturally for her son, he called her to ask about God. He had a panic attack the night before and realizing how fast time goes by, wanted to make sure he has eternal life! – Moms in Prayer Group Leader
---
College Prayer Points November/December 2023
"It has been a very encouraging start to the school year, with 600+ students having already indicated decisions to receive Christ" – Dan Allen, Cru Executive Director of Mission Expansion.
Thank you for praying!
OCTOBER 22-28
Dept: Psychology – Pray for students to better understand how the mind works as created by God.
Guard students from anxiety, depression, isolation, & suicidal thoughts. Guide each one to Christ, to repentance if needed, and to the right help.

Bless our kids with discernment for the right career path and discovering their God-given gifts.

Pray that God will establish gospel ministries for the more than 1,700 college campuses without any.
OCTOBER 29–NOVEMBER 4
Dept: Mathematics – Guide professors as they instruct, with a desire to help students be successful.
Pray that students investigating who Jesus is would be captivated by Him and make decisions to follow Him.

Pray for sports teams on campus to be influenced by Christian coaches, teammates, & chaplains and the skills God has given them will be used for His glory.

Pray that students will have the financial support they need to continue their studies and provide for their daily needs.
NOVEMBER 5-11
Dept: History – Raise up godly history majors who will go on to teach in our schools, making an impact for Christ on campuses.
May young men and women no longer compare themselves to others, but learn how God created them and fulfill His good purposes for their lives.

Pray for professors to care for students and see them as people worth building relationships with.

Encourage off-campus students who lack community through local Christian young adults who will invite them to church.
NOVEMBER 12-18
Dept: Chemistry – As students study matter, chemicals, and reactions, may God help them see His handiwork.
Give Christian students stamina and focus to honor God through faithful study for midterms & finals; may their security and identity be in Him regardless of grade outcomes.

Professors & students who are hurting emotionally would be invited to Christian outreach events & local churches to encounter Jesus who heals the brokenhearted.

Pray for God to touch the hearts of Resident Assistants (RA's) responsible for students in dorms. RA's will be approachable & care for the students, and students will be respectful.
NOVEMBER 19-25
Dept: Philosophy – May professors and students use critical thinking skills for God's glory.
Students that can't go home for Thanksgiving break will be invited to a good home where they will be welcomed and cared for.

Professors, staff, & students traveling for thanksgiving will be kept safe, value the time with family & friends, and be refreshed.

Those in fraternities and sororities would encourage and support one another, develop leadership skills, and serve their communities.
NOVEMBER 26–DECEMBER 2
Dept: Political Science – Pray that students will be led to Christ & become professionals who bring about a godly shift in culture.
God will intervene in students' lives who are "exploring freedom away from home," looking to the things of this world to satisfy.

Give professors and students perseverance and focus to end the semester well.

Student leaders of campus ministries will be trained well and gain a lifelong vision for sharing the gospel, no matter where God leads them in their career or life path.
DECEMBER 3-9
Dept: Religious Studies – Pray for godly professors in this field and that students would be led to the Truth when comparing religions to Christianity.
Spiritual awakening and revival would continue to spread throughout campuses.

Guide professors preparing final semester tests, to be fair and to cover the most important material.

Provide internships to students in their field of study and future job opportunities.
DECEMBER 10-16
Dept: Custodial, Facilities, Safety Personnel – Pray for campus support staff to work with integrity, be encouraged by others, and to be receptive to the gospel.
Help students during finals to study and retain information so they can do well on their tests.

Pray for a refreshing Christmas break for all students, professors, and staff.

Heal relationships at home that are strained.
Enjoy your Christmas break! Look for the next college prayer points mid-January.