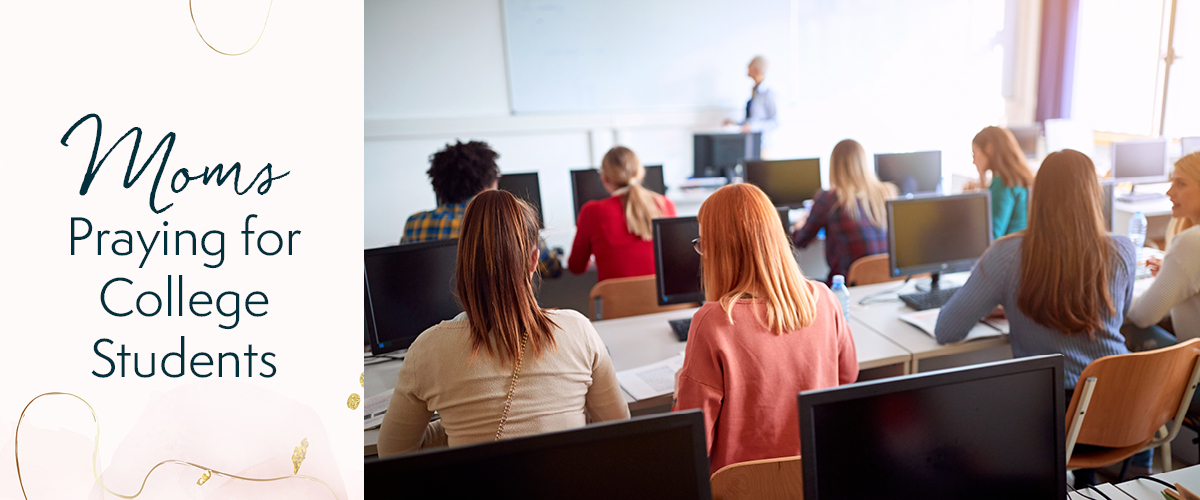 Impact College Students & Campuses for Christ
Our College MIP group welcomed a new member. After only two sessions of praying scripturally for her son, he called her to ask about God. He had a panic attack the night before and realizing how fast time goes by, wanted to make sure he has eternal life! – Moms in Prayer Group Leader
---
College Prayer Points September/October 2023
SEPTEMBER 10-16
Dept: Student Services – Pray for efficiency, patience, & that any disputes will be resolved peacefully.
Pray for the 3 million incoming freshmen to find community among Jesus followers who will point them to Christ and boldly share the gospel with them.

On-campus students will have a smooth move-in process and not be anxious.

Pray that God will raise up Christ-centered professors on every campus so that there will be a group of colleagues working together for God's purposes.
SEPTEMBER 17-23
Dept: Business – Pray for professors to teach with integrity and students to respect professors.
Guide students to get connected quickly with local college ministries and Christian churches.

Establish friend groups and solid Christian community.

Help our adult children to not give in to temptation and the things of this world.
SEPTEMBER 24-30
Dept: Education – Pray that God will raise up godly teachers through students in this field of study.
As students get into routines, they will take good care of themselves with getting enough sleep, eating a balanced diet, and exercising.

Motivate professors with a desire to instruct well, inspire their students, and make time for them when they need help.

May Christian students shine brightly for Christ with their roommates, fellow students, and professors.
OCTOBER 1-7
Dept: Sciences – Pray that professors & students will understand that God is Creator of all things.
No matter what the spiritual environment is on campus, help our kids to stand firm in Christ, seek Him daily, pray, & trust.

For our children who don't know the Lord or don't have a close relationship with Him, draw them to You Lord through other believers on campus.

Keep our college campuses safe and protected from anyone who would desire to do harm or have evil intent.
OCTOBER 8-14
Dept: Arts – Spark creativity in students that honors God & encourage professors through student interest.
May our kids' identity be firmly rooted in Christ so they will not believe lies about who they are.

MIP members will share with other Christian moms the power of praying together so that more college students & their campuses are covered in prayer.

Campus ministries will thrive and reach many students for Christ.
OCTOBER 15-21
Dept: Engineering – Pray for students to understand concepts & to be helpful to one another during group projects.
Spiritual awakening and revival would spread throughout this campus.

Help our kids to be diligent in their studies and do their very best, especially in the middle of the semester or quarter when it may be more difficult to stay motivated.

Meet students' needs financially for housing, meals, tuition, and books.
OCTOBER 22-28
Dept: Psychology – Pray for students to better understand how the mind works as created by God.
Guard students from anxiety, depression, isolation, & suicidal thoughts. Guide each one to Christ, to repentance if needed, and to the right help.

Bless our kids with discernment for the right career path and discovering their God-given gifts.

Pray that God will establish gospel ministries for the more than 1,700 college campuses without any.