"As we've met so many students over the years and heard their stories, inevitably we hear, 'Yeah, my mom has been praying.'" After decades of college ministry, this is the hope-filled declaration! Today Stacy talks with executive director of Luke18 Project, Thai Lam. Listen in as he shares his heart for college ministry and how it all began with his own college experience. Don't miss his eyewitness account of the power of prayer and the opportunity to be a part of the Collegiate Day of Prayer.
Scriptures:
One day Jesus told his disciples a story to show that they should always pray and never give up. "There was a judge in a certain city," he said, "who neither feared God nor cared about people. A widow of that city came to him repeatedly, saying, 'Give me justice in this dispute with my enemy.' The judge ignored her for a while, but finally he said to himself, 'I don't fear God or care about people, but this woman is driving me crazy. I'm going to see that she gets justice, because she is wearing me out with her constant requests!'"
Then the Lord said, "Learn a lesson from this unjust judge. Even he rendered a just decision in the end. So don't you think God will surely give justice to his chosen people who cry out to him day and night? Will he keep putting them off? I tell you, he will grant justice to them quickly! But when the Son of Man returns, how many will he find on the earth who have faith?" Luke 18:1-8 NLT
So we have not stopped praying for you since we first heard about you. We ask God to give you complete knowledge of his will and to give you spiritual wisdom and understanding. Colossians 1:9 NLT
Links:
Collegiate Day of Prayer (CDOP)
YouVersion CDOP Campus Prayer Guide
Moms in Prayer
About our Guest: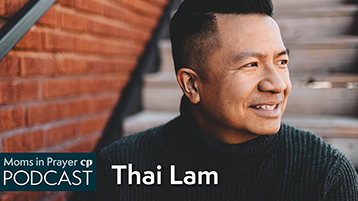 Thai Lam is part of the leadership team of the International House of Prayer and serves as the Executive Director of Luke18 Project, a campus prayer movement that is contending for revival and equipping college students to be praying leaders. He also gives leadership to Collegiate Day of Prayer, America's oldest concert of prayer for college campuses on the last Thursday of February. Thai has pioneered and led campus ministries at UC Berkeley, UCLA, Stanford, San Jose State, KU, and UMKC. Thai came to faith in Jesus as a freshman at UC Berkeley, graduated in Religious Studies, and then studied Cross-Cultural Missions at Fuller Seminary. Thai and his wife Angela reside in Kansas City with their 3 children — Noah, Cohen, and Selah.
FOLLOW THE MOMS IN PRAYER PODCAST