"God is able to use the good, the bad, and the ugly in our lives." Today we continue our Moms in the Bible series talking about not one, but two moms in the Bible, Leah and Rachel. Listen in as Stacy talks with Moms in Prayer USA Southwest Division Coordinator, Kendra Rock, about the way God is able to work all things together for good in the lives of His children. What hope we have in our compassionate God who continually shows us just how dearly He loves us.
SCRIPTURES (NIV)
May the LORD make the woman who is coming to your house like Rachel and Leah, the two who built the house of Israel. Ruth 4:11
From the rising of the sun to the place where it sets, the name of the LORD is to be praised. Psalm 113:3
Now to him who is able to do immeasurably more than all we ask or imagine, according to his power that is at work within us, to him be glory in the church and in Christ Jesus throughout all generations, for ever and ever! Amen. Ephesians 3:20-21
Each is tempted when he is lured and enticed by his own desire. Then desire when it is conceived gives birth to sin and sin when it is fully grown brings forth death. James 1:14-15
What causes fights and quarrels among you? Don't they come from your desires that battle within you? You desire but you do not have so you kill. You covet but you cannot get what you want, so you quarrel and fight. You do not have because you do not ask God. James 4:1-2
Links
SHARE this blog with a friend – click on a social media icon on screen
About our Guest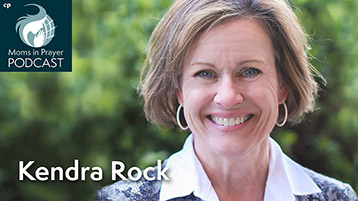 Kendra Rock is the Southwest Division Coordinator for Moms in Prayer International. She has the joy of serving alongside the leadership and praying moms in Arizona, Arkansas, New Mexico, Oklahoma, and Texas. She has been involved in Moms in Prayer for more than 23 years. Kendra is married to Roger and is blessed with two adult sons, a daughter-in-love, and two grandchildren. She enjoys talks with God, walks with her husband, and playing the harp.
FOLLOW the Moms in Prayer Podcast!