We continue the blog series, Mentor Moms, with Sharon's story. She's a mother who has walked in your shoes and experienced the power and hope God brings through His Word and united prayer.
As a mother to three daughters and a grandmother of six, I know what it's like to have many demands for your time. I learned to surround myself with the Word of God and prayer. I want to encourage you with some ways to do that in your life. I have seen God work mightily through Moms in Prayer groups, in my perspective as an elementary school teacher, in leading Good News Clubs and through mission work overseas.
When Covid hit this year, I had a visual in my mind of a buoy in the water in regards to mothers – so overwhelmed by everything, bobbing up and down, sometimes feeling like you'll drown. Afraid of the unknown. Trapped. I'm going to go under. I'm all alone.
God gave me the task of inspiring and encouraging you to hang on.
Surround Yourself with the Word of God
I realize that we are in the digital age, but I've found great value in writing Bible verses on index cards and placing them where you will see the verses frequently as a continual reminder. When written in your handwriting, they become more personal. I write the King James Version on one side of the card and Amplified on the other. There are so many verses that include "He, Himself…" He, Himself will lead you. Moms, you are not alone!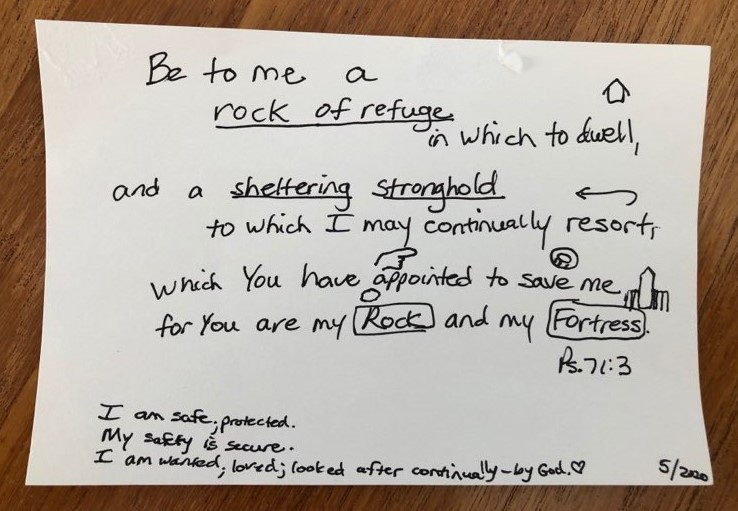 Here are some of my favorite verses (AMPC version) to remind you that:
God is With Me
It is the Lord Who goes before you; He will [march] with you; He will not fail you or let you go or forsake you; [let there be no cowardice or flinching, but] fear not, neither become broken [in spirit—depressed, dismayed, and unnerved with alarm].  Deuteronomy 31:8
Wait and hope for and expect the Lord; be brave and of good courage and let your heart be stout and enduring. Yes, wait for and hope for and expect the Lord.  Psalm 27:14
I have set the Lord continually before me; because He is at my right hand, I shall not be moved. Therefore, my heart is glad and my glory [my inner self] rejoices; my body too shall rest and confidently dwell in safety.  Psalm 16:8-9
Casting the whole of your care [all your anxieties, all your worries, all your concerns, once and for all] on Him, for He cares for you affectionately and cares about you watchfully.  1 Peter 5:7
Memorize the verse on your index card and use it as a devotion in the morning. Add notes, jotting down what is God teaching you.
Pray with Other Moms
The camaraderie and support system with Moms in Prayer women has been profound in my life as a mom. We come together, supporting one another in prayer and the Word of God, and keep our prayers confidential.
I knew I had a solid group of support because we prayed for one another and for our kids. These were moms who understood my struggles.
My oldest daughter who is a mother of four now and member of a Moms in Prayer group, says with confidence, "Moms, have hope – this won't last forever."
Praying for your children's schools is another key to this group. You become part of praying God's will for the school. I can tell you that as a teacher, when Moms in Prayer groups were praying, that meant that God was covering the school. I could see a difference when I was prayed for and in my witness for Christ. In one of the schools, a teacher said to me, "You are an inspiration." I don't think it was the words I said to her, but more the way I lived my life and how I treated the students.
Serve One Another in Love
How can you bless your child's teacher?
One day in class, I found a note on my desk, "I love you and remember how much Jesus loves you." I needed that encouragement. I spoke to this mom and she started a Moms in Prayer group for the school.
When I taught Kindergarten, I was able to greet parents before school started. One year, a mom who came in with her little boy, said she would push him in the stroller and pray for the school and for what teachers he would have. Not only did I teach this woman's son, but also her grandkids! These moms blessed me with their prayers and God also gave me opportunities to encourage moms to gather and pray. The best way to serve the teachers is to pray for them. In my own group, after persevering in prayer for many years, for a teacher and secretary at one of the schools, both came to know Christ.
Having a Good News Club and a Moms in Prayer group praying for the school is the best combination. While I was leading a Good News Club at an elementary school in San Diego, I noticed that some of the teachers came to the Club as it was starting. One day, I overheard some kids talking on the playground. There was a bullying incident. A student said to the child who was bullying another, "We're learning in Good News Club that you're not supposed treat other people that way."
These kids were making a difference on the campus and were even a witness to teachers.
Comfort Others with the Comfort God has Given You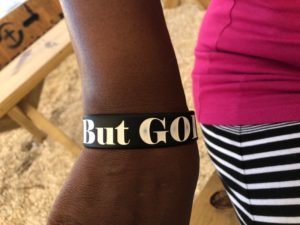 This year, I traveled to the Bahamas as a Chaplain for the Billy Graham association, to provide help after Hurricane Dorian. The people who lost loved ones had mixed emotions, from anger to deep sorrow. Having lost my husband three years ago, I understood grief. I was one of two chaplains working in the waiting room at the hospital. Women had lost their children. One mom put her arm up and showed me her bracelet that read, "But God!" God carried her and her family through this traumatic time. We can experience fear, anxiety and loneliness… BUT GOD. Look beyond the heartaches and focus on Jesus, your Savior.
Being a mom during the pandemic is not easy, but I say to you what my father, who was a school principal, said to me, "You are the salt of the earth." Moms, you have influence on your family and others around you. Don't let this time drag you down and discourage you. You have great purpose and a God who loves you.
My Prayer for You
Dear Lord God, I come to you on behalf of moms. Moms who are struggling right now with all that is going on: covid-19, distance learning, schools opening or not, loss of or diminished finances, illness, lack of strength, peace, and hope. May You, dear God, hold them. Wrap them in your loving arms. Let them know You are with them. Help them to see beyond their circumstances and to see YOU. Fill them with what they need for this season, knowing this will not last forever, and that they are not alone. Thank You for Your Word, dear God, that says, the LORD himself goes before you; He will be with you, He will not fail you, neither forsake you: fear not, neither be dismayed. (Deuteronomy 31:8)
In the Name above all Names, Jesus. Amen
SHARE this blog with a friend – click on a social media icon on screen
Sharon Moody is a retired public school teacher. Since retiring, she volunteers with Good News Club, telling children about the love of Jesus at two schools. Sharon has been in a Moms in Prayer group for over 20 years. She is also a Chaplain for the Rapid Response Team with the Billy Graham Evangelistic Association. She loves hiking, riding her bike, and walking on the beach with her three daughters and six grandchildren. She is learning to cling closely to the Lord as a widow.