I became a single mom when my son Roger was seven years old. He changed overnight and his heart was no longer open to me.
Thanks to God's grace, through years of prayer, especially Moms in Prayer, God changed my life and led me to repair the parent-child relationship with my son, step by step.
It was especially challenging last year, when I was concerned about my son's time spent on computer games, so I prayed about this. Soon after, Roger joined a club at his university campus, but I wasn't sure if this was good for him or not.
I thank God for guarding my heart, as I didn't confront Roger despite being anxious. Instead, I listened to him when he enthusiastically talked about exciting activities at the club. Although my heart was full of worry, still I thanked God for every detail He had answered from my prayer, "May God attract Roger with other activities and reduce his time on computer games." And I chose to compliment Roger's progress, "Son, you are really getting mature and learning how to handle things carefully."
One day, while praying for Roger's school at my Moms in Prayer group, the Holy Spirit led me to pray for the salvation and safety of members in this club. I realized that my love is limited, but God's love is long, wide, high and deep and He cares about every student at the university.
In John 17:15, Jesus says to the Father, "My prayer is not that you take them out of the world but that you protect them from the evil one."
I learned from this that my son is already a young man and I cannot force him to do things or take measures into my own hands. I needed to adjust my mindset. Through consistent prayer, I firmly believe that God will intervene at the different stages of Roger's life and that God's purpose and destiny for him will continue to be fulfilled.
Before he finished high school and went to the university, my son said to me, "I won't come back. This is not my home. I don't have a home."
But now, even though we are in different countries, we communicate online two to three times per week and there is a warm connection between me and my son.
I deeply thank my loving, mighty, faithful Heavenly Father. He listened to every prayer and answered according to the best way and best timing in His eyes.
Moms in Prayer has meant so much to me that I reached out to other Christian mothers in my area. We thank God that there are now 30 registered groups! And, along with this, answers to prayer.
A group leader in my area shared that her group urgently prayed for the college and high school close to where they live. Four years later, the university hired a Christian president and the high school principal, who was living an ungodly life, suddenly resigned and was replaced with another principal.

Another answer to prayer comes from group member Grace. "Last month, Lynn told me that she started a Moms in Prayer group on zoom. God miraculously brought together moms residing in different provinces to pray fervently. I felt the need to pray for my son who had just started his first year in a university far away from home. As soon as I witnessed the fervent prayers of these moms, I was drawn to them and always look forward to praying with them the next time."
"Dividing moms into groups of two during intercession gives me an opportunity to get to know more moms and their children, and to receive their unique prayers for my son and his university. During the short six weeks of praying with the Moms in Prayer group, I see the Lord Jesus Christ moving in my son's life and transforming my own prayer life:
My morning time with the Lord has become less distracted by other thoughts as I focus on God's attributes and character.

I feel a boost of confidence in prayer and the power of God such that prayer has gradually become more natural, like breathing.

While talking with my mother on WeChat, I was moved to pray with her for the salvation of other family members and relatives. My mother and I want to continue to pray together.

I initiated a prayer meeting on Zoom with my pastor and his wife to pray for the church using the same four steps of prayer.

The Lord opened a door for me to reach out to a non-believing friend. I prayed for her before I shared the Gospel. Glory be to God, she received the Lord!"
As we focus on God in prayer, praising His attributes and character, and thanking Him for what He has done for us, our spiritual atmosphere shifts and our problems diminish. Praise the Lord for He is such an awesome God and His love endures forever!
SHARE this blog with a friend – click on a social media icon on screen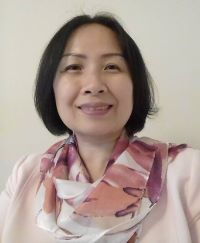 Lynn Chen started the first Moms in Prayer Chinese-speaking group in Vancouver, Canada in 2014. These mothers were prompted to start praying due to school policies being inconsistent with biblical teaching. Lynn then reached out to other moms in the Chinese community, leading them in the Four Steps of Prayer to develop a deeper understanding of the benefits and importance of this powerful prayer format.