Moms Praying for Prodigals
"While it is painful to see your children walk away from the Lord, there is hope as long as there is breath in their lungs, and so we pray. Rest assured, dear sisters, that God is working all the time." —Becky Stokely, praying mom
I will give them a heart to know me, that I am the LORD. They will be my people, and I will be their God, for they will return to me with all their heart.  Jeremiah 24:7 (NIV)
Prodigal Praying Moms Liaison
Becky Stokely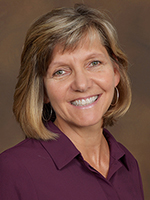 My journey with Moms in Prayer started when my oldest son was in second grade.  A sweet mom of another student in his class asked me if I would like to meet and pray for our kids. That first group never grew past three moms, but I loved every moment of it.
The four steps of prayer gave me a higher view of who God is, a deeper peace than I had known and of course many, many answered prayers. Over the years, I have had the joy of praying in and helping lead many Moms in Prayer groups. The bonds that you form with other praying moms and the love that you feel for their children is truly a gift from the Lord.
I have been married to my wonderful husband Dan for 26 years and we are blessed with two young adult sons and a teenage daughter. I enjoy hiking and fishing with my husband.
Every good and perfect gift is from above coming down from the Father of the heavenly lights, who does not change like the shifting shadows.  James 1:17 (NIV)
Please contact me by clicking here for assistance in finding hope and prayer support through a Moms in Prayer group! And watch the video below to be encouraged in your prayer journey for your prodigal.
Watch this powerful video of praying mom Becky, interviewed by Lee Nienhuis. Becky has prayed for years in a Moms in Prayer group for her addicted son. She says he is alive today because God heard those prayers.
More prodigal videos:
Read our latest blog about a prodigal daughter
and how God "broke in" to her heart.
---
"I had to battle the overwhelming fear and anguish that I would walk through as the parent of a heroin addict. And nothing could prepare me more than those hours of prayer spent with my Moms in Prayer group." Read more of Kelly's story Who Am I?
Hanaleigh was raised with Christian values, accepted Jesus as her Savior at the age of 10 and at 17 chose to run away from God and into a very dark world. "My mom and her three other Moms in Prayer women are the "angels" who prayed me out of Hell!
Gathering to pray in a Moms in Prayer group brings other sisters in Christ alongside you to pray for your son or daughter.
Join a Group