Christina Gard believes her family can change the world as they pray and as they give.  In today's episode, Lee sits down with Christina to talk about Compassion International's Moms and Babies program, and how Moms in Prayer dovetails in mission and vision. Christina discusses candidly the sacrifices her family is making to support other moms, and the incredible blessings her family is receiving as a result.
Show Notes:
More information about the Moms and Babies program
SHOW SPONSOR:
Compassion International:  www.Compassion.com 
SHARE this blog – choose a social media icon to the right or bottom of screen.
GIVE just $20 monthly! Impact More Children & Schools Worldwide for Christ.
About our Guest: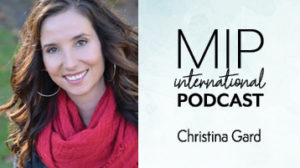 Christina Gard is the Associate Professor of Psychology at Southeastern University and serves alongside her husband as Lead Pastor of GraceCity Church in Lakeland, Florida. She holds a B.A. in Communication and Organizational Management from Northwest University, an M.S. in Human Services, and she's pursuing an M.A. in Ministerial Leadership. Prior to teaching at SEU, she was a part of the faculty at Northwest University in the College of Ministry and was the children's pastor at Puyallup Foursquare Church in Washington. Christina held the title of Miss Alaska and competed at Miss America in 2005, serving as a national spokesperson for Childhelp USA through which she worked to break the silence surrounding child abuse, and is currently an advocate for Compassion International. In 2018, Andrew and Christina became parents to a beautiful set of twins named Justice and Adriana. They are passionate about introducing people to Jesus and seeing lives transformed.