"There is never a need you are going to face that God has not covered in His Word and even more in His character." Stacy sits down with best-selling author, speaker, and Moms in Prayer mom, Jodie Berndt. She is here to share about the gift of praying God's own words back to Him; how the whole Bible is meant not just to be read, but also to be prayed through. Listen in as Jodie shares the treasures the Lord revealed to her as she responded to His invitation to abide in His presence.
Scriptures NIV:
I know that you can do all things; no purpose of yours can be thwarted. Job 42:2
Take delight in the LORD, and he will give you the desires of your heart. Psalm 37:4
For the LORD God is a sun and shield; the LORD bestows favor and honor; no good thing does he withhold from those whose walk is blameless. LORD Almighty, blessed is the one who trusts in you. Psalm 84:11-12
Great is our Lord and mighty in power; his understanding has no limit. Psalm 147:5
You did not choose me, but I chose you and appointed you so that you might go and bear fruit—fruit that will last—and so that whatever you ask in my name the Father will give you. John 15:16
Do not let any unwholesome talk come out of your mouths, but only what is helpful for building others up according to their needs, that it may benefit those who listen. Ephesians 4:29
Be kind and compassionate to one another, forgiving each other, just as in Christ God forgave you. Ephesians 4:32
Books by Jodie Berndt:
Praying the Scriptures for Your Life
Praying Scriptures for Your Children
Moms in Prayer Links:
Global Day of Prayer & Fasting January 12th
Start a Moms in Prayer Group!
SHARE this blog with a friend – click on a social media icon on screen
Support Our Mission
About our Guest: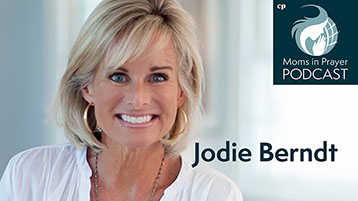 Jodie Berndt is a popular speaker and the author of ten books, including the bestselling Praying the Scriptures series for Children, Teens, and Adult Children. Jodie has been a guest on shows like Focus on the Family, The 700 Club, and the Don't Mom Alone podcast, and her writing has been featured on Fox News, Proverbs 31 Ministries, and in several family and parenting magazines. A former television producer and on-air personality, Jodie has been married to her UVA sweetheart, Robbie, for 35 years. They have four adult children and live in Virginia Beach, Virginia.
FOLLOW the Moms in Prayer Podcast!