Motherhood is filled with moments of letting go, from kindergarten to college. In this episode, Lee talks to author Brenda Yoder about preparing our kids for both the small launches and the big launches.  It's time to get real about mommy grief, the role of prayer during transitions, and letting God be the one in control of our important moments.
Scriptures:
"Like arrows in the hands of a warrior are children born in one's youth."  Psalm 127:4 (NIV)
"Have I not commanded you? Be strong and courageous. Do not be afraid; do not be discouraged, for the LORD your God will be with you wherever you go."  Joshua 1:9 (NIV)
Book:
Fledge: Launching Your Kids Without Losing Your Mind by Brenda Yoder
Website:
SHARE this blog – choose a social media icon to the right or bottom of screen.
GIVE just $20 monthly! Impact More Children & Schools Worldwide for Christ.
About our Guest: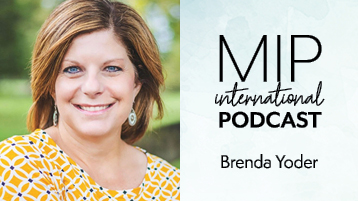 Brenda Yoder is an award-winning teacher, national speaker, author, Licensed Mental Health Counselor, and life coach whose passion is encouraging others when life doesn't fit the storybook image. Brenda's book, "Fledge: Launching Kids without Losing Your Mind" is endorsed by Jim Daly of Focus on the Family and was Amazon's #1 new release in Motherhood. When Brenda's not speaking, writing, counseling, or attending a sporting event, she loves gardening, playing with her dog, taking road trips and listening to people's stories. She and her family make their home in rural Indiana.