"Lord, we have seen Your awesome deeds. We have told the stories. Won't You do it again?" This is what we are all praying for, that the revival and spiritual awakenings we have seen throughout history would happen again! Listen in as Stacy speaks with Dan Allan, Executive Director of Mission Expansion for Cru and co-founder of the Every Campus movement. He shares amazing answers to prayer from believers at different churches, denominations and ministries, all uniting for kingdom work on campuses throughout the world.
Scriptures: (NIV)
Glorify the LORD with me; let us exalt his name together. Psalm 34:3
How good and pleasant it is when God's people live together in unity! Psalm 133:1
Lord, I have heard of your fame; I stand in awe of your deeds, Lord. Repeat them in our day. Habakkuk 3:2a
By this everyone will know that you are my disciples, if you love one another. John 13:35
Jesus answered, "I am the way and the truth and the life. No one comes to the Father except through me. John 14:6
Salvation is found in no one else, for there is no other name under heaven given to mankind by which we must be saved. Acts 4:12
Links:
Cru
Every Student
Collegiate Day of Prayer
Good Friday
Moms in Prayer:
SHARE this blog with a friend – click on a social media icon on screen
About our Guest: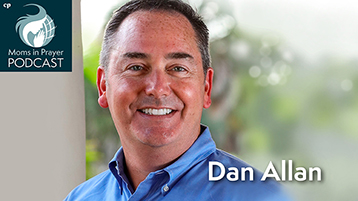 Dan Allan has served on staff with Cru since 1990. His assignments began with STINT in Bucharest, Romania just months after the Iron Curtain fell. Dan has served in the campus ministry of Cru at the University of Missouri, in the St. Louis area, and in Southern California before moving to Orlando in August of 2017. Currently, he is the Executive Director for Mission Expansion. Dan is also co-founder of the EveryCampus movement–a coalition of partners who share a passion to see revival and spiritual awakening among college students and faculty in the United States. Dan and his wife, Holly, have been married for 27 years. They have a daughter who is graduating from law school this spring and a son who is a junior at the University of Central Florida. They own a "forever toddler" dog who thinks that she is a daughter.
FOLLOW the Moms in Prayer Podcast!