"Our part is to rise up bold in the strength of the Lord, to move forward in prayer, and then watch God unleash His power." Today Stacy talks with Sally Burke, President of Moms in Prayer International, about the great opportunity we have to impact an entire generation through prayer. What a vital topic to ponder as we enter a new year! Listen in as Sally inspires us to rise up and pray and takes us through Psalm 138.
Scriptures NASB except noted:
So that the generation to come would know, the children yet to be born, That they would arise and tell them to their children. Psalm 78:6
I will give You thanks with all my heart; I will sing Your praises before the gods. I will bow down toward Your holy temple And give thanks to Your name for Your mercy and Your truth;
For You have made Your word great according to all Your name. On the day I called, You answered me; You made me bold with strength in my soul.
All the kings of the earth will give thanks to You, LORD, When they have heard the words of Your mouth. And they will sing of the ways of the LORD, For great is the glory of the LORD.
For the LORD is exalted, Yet He looks after the lowly, But He knows the haughty from afar.
Though I walk in the midst of trouble, You will revive me; You will reach out with Your hand against the wrath of my enemies, And Your right hand will save me. The LORD will accomplish what concerns me; Your faithfulness, LORD, is everlasting; Do not abandon the works of Your hands. Psalm 138
Be completely humble and gentle; be patient, bearing with one another in love. Ephesians 4:2 NIV
Finally, be strong in the Lord and in the strength of His might. Put on the full armor of God, so that you will be able to stand firm against the schemes of the devil. Ephesians 6:10-11
Books by Sally Burke & Cyndie Claypool De Neve:
Raise Them Up: Praying God's Word Over Your Kids
Start with Praise: Living Empowered Through Prayer
Unshaken: Experience the Power and Peace of a Life of Prayer
Unshaken Study Guide and Personal Reflections
Links:
SHARE this blog with a friend – click on a social media icon on screen
About our Guest: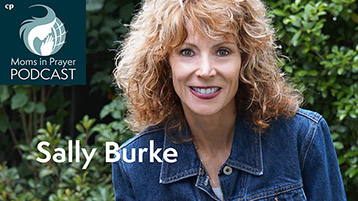 Sally Burke is a dynamic speaker, teacher, author and the President of Moms in Prayer International. She leads a worldwide ministry that equips and encourages women in the transforming power of prayer. As a child growing up in Florida, Sally was fascinated with the space program and began her career as a space shuttle engineer with a Master of Science in Management. After her marriage and the birth of two children, Sally and her husband came to faith in Christ and Moms in Prayer soon became a top priority. She and her husband Ed now have four grown children, a son-in-law, two daughters-in-law and four grandchildren. In her leisure time, you'll find Sally on a walk/run, curled up with a good book or enjoying the company of friends.
FOLLOW the Moms in Prayer Podcast!