"Never, never, never give up praying for your children." Why? Because our faithful God hears and answers prayer! Today Stacy speaks with Moms in Prayer Uganda Country Coordinator, Jessica Okello. She is here to share one jaw dropping testimony of answered prayer after another. Listen closely because you don't want to miss any of Jessica's amazing stories or her powerful encouragement.
Scripture
Watch and pray, lest you enter into temptation. The spirit indeed is willing, but the flesh is weak. Matthew 26:41
I do not pray for these alone, but also for those who will believe in Me through their word; that they all may be one, as You, Father, are in Me, and I in You; that they also may be one in Us, that the world may believe that You sent Me. John 17:20-21
Now to Him who is able to do exceedingly abundantly above all that we ask or think, according to the power that works in us, to Him be glory in the church by Christ Jesus to all generations, forever and ever. Amen. Ephesians 3:20-21
Beloved, let us love one another, for love is of God; and everyone who loves is born of God and knows God. He who does not love does not know God, for God is love. 1 John 4:7-8
MOMS IN PRAYER
SHARE THIS BLOG- CLICK ON  SOCIAL MEDIA ICON ON SCREEN
About our Guest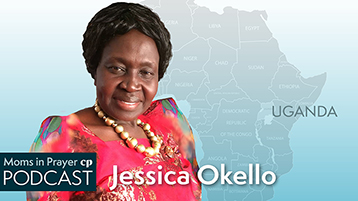 Jessica Okello has been a part of Moms in Prayer International leadership for over two decades and currently serves as the Country Coordinator for Uganda. She and her late husband, Pastor Nelson, have faithfully served in church and also with Alarm ministries. Together, they have raised not only their own five children, but also many, many more have been welcomed into their home.
FOLLOW THE MOMS IN PRAYER PODCAST